Today's blog post came along because of an easter table decor major FAIL.
I had a really cute (or so I thought) idea that I wanted to share with you all, and I spent a good hour of my life working on it…but it was a complete FLOP. I tried to make myself believe it wasn't but there was no denying it.
In the midst of my frustration that I had just wasted so much of my time, I decided to go a completely different route. It came about by accident, and at first- I thought, "Is this too simple?" BUT, as you know- my motto is "Ain't nobody got time for hard projects", and I think that is why my first one failed. I was trying too hard!
So, I pulled together a very simple and cute Easter decoration that can be used anywhere around your home! I can picture it sitting in the middle of your table or on a beautiful Easter tablescape…really just anywhere.
Here are the supplies I used: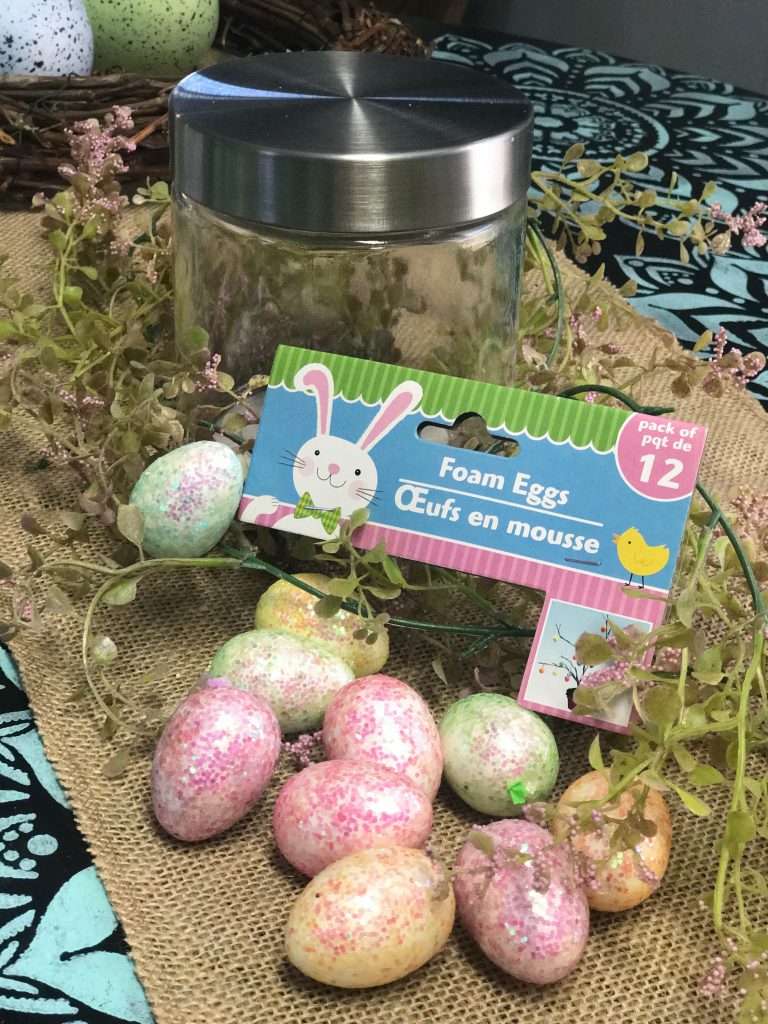 All together, the supplies came in at $4.50. I had them all on hand, but I added up what each had cost me. The little eggs are from Dollar Tree (so $1.00), the canister was $2 at Big Lots, the grapevine wreath was $.50 at a thrift store, and the flowery stuff was $1.00 when Gordman's was going out of business at one of their locations! (And raffia- well, I have it coming out my bahookus around here, so there is an endless supply!)
ALL I did here was simply put a few eggs into my canister and then begin to put my greenery in, wrapping it around in there and adding more eggs as I went! BOOM! That is all. Told you it was SO SIMPLE.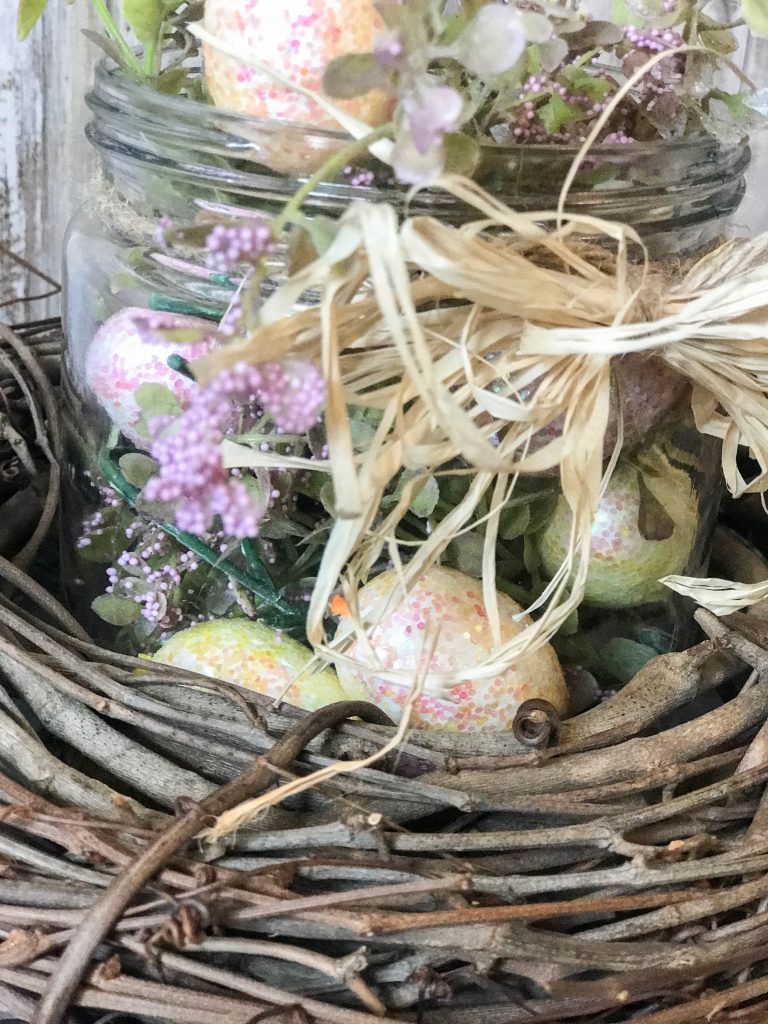 Then, I kind of arranged the top to make it "extra" pretty with some sticking out and flowing over the side, with eggs strategically placed to show up better 🙂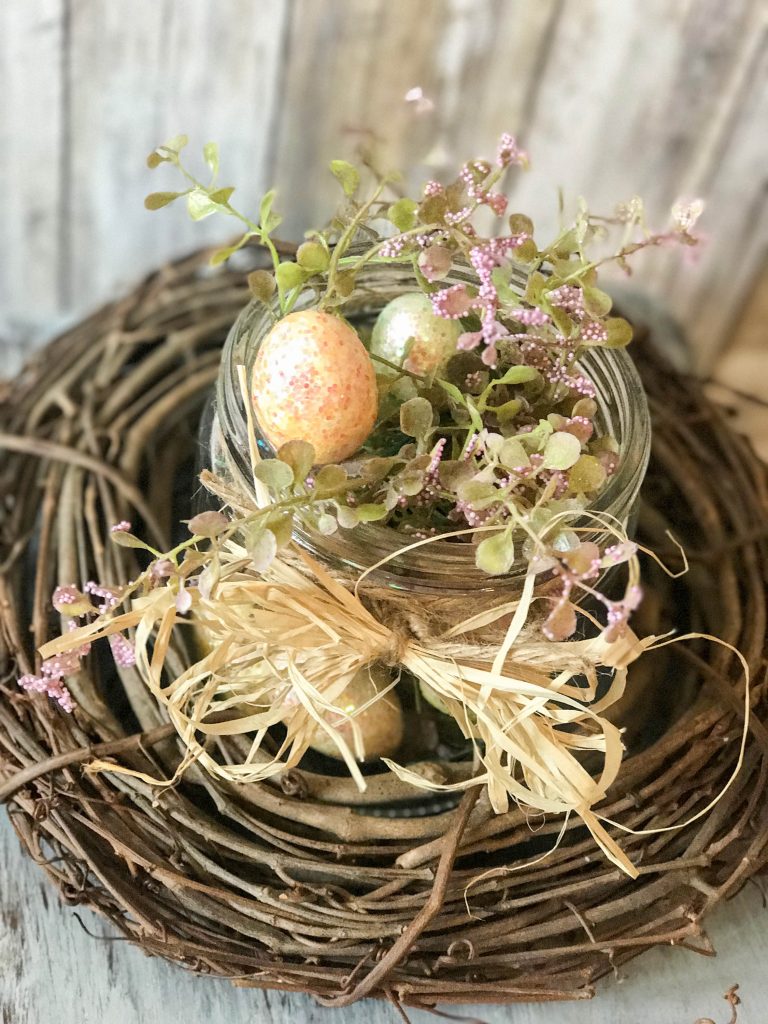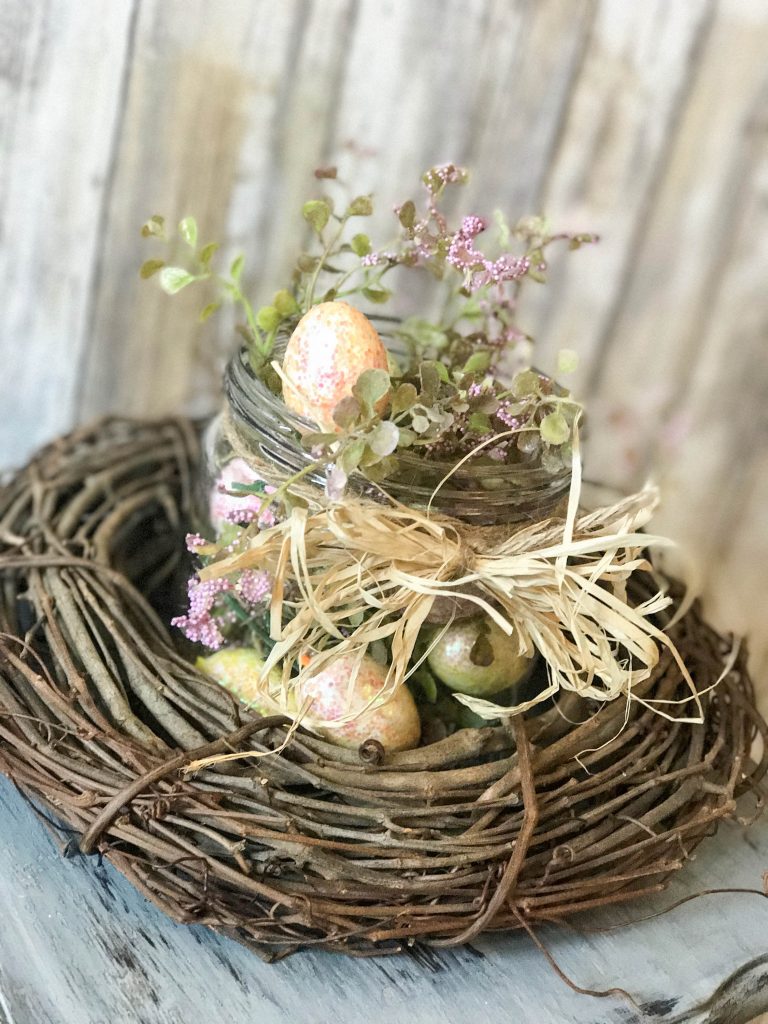 I love how it turned out! I sat the canister inside of the grapevine wreath just for better visual effect…and it was the perfect size. You can love or leave that part.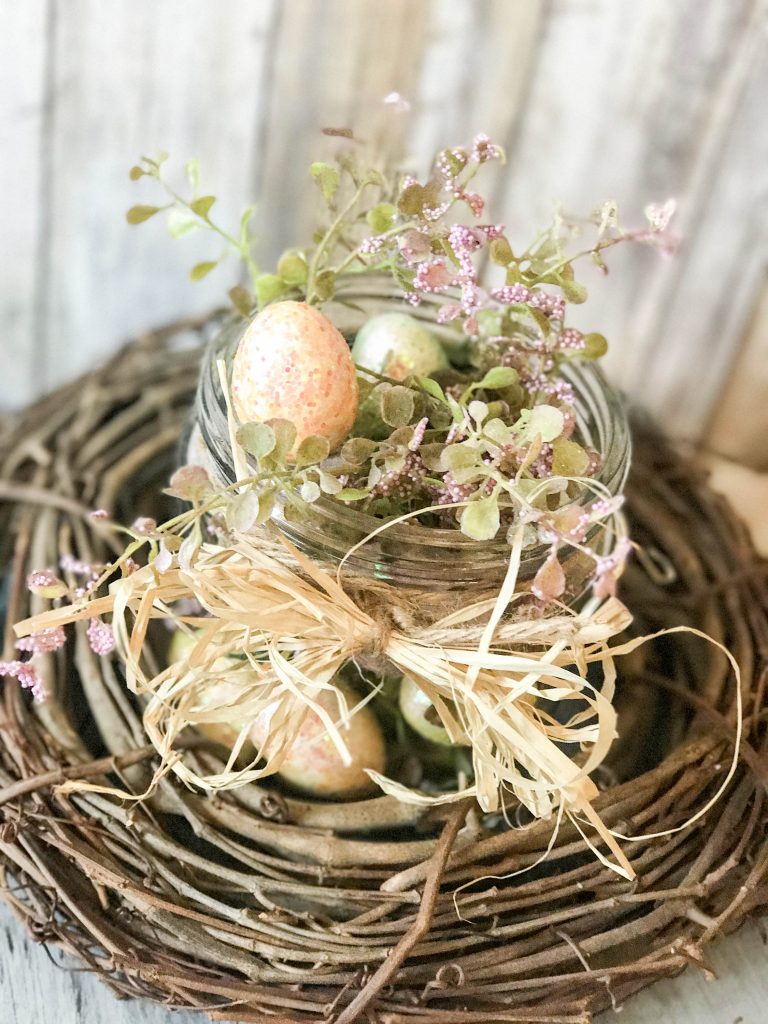 The raffia bow was an addition that I made because I am a firm believer that everything looks better with a little raffia!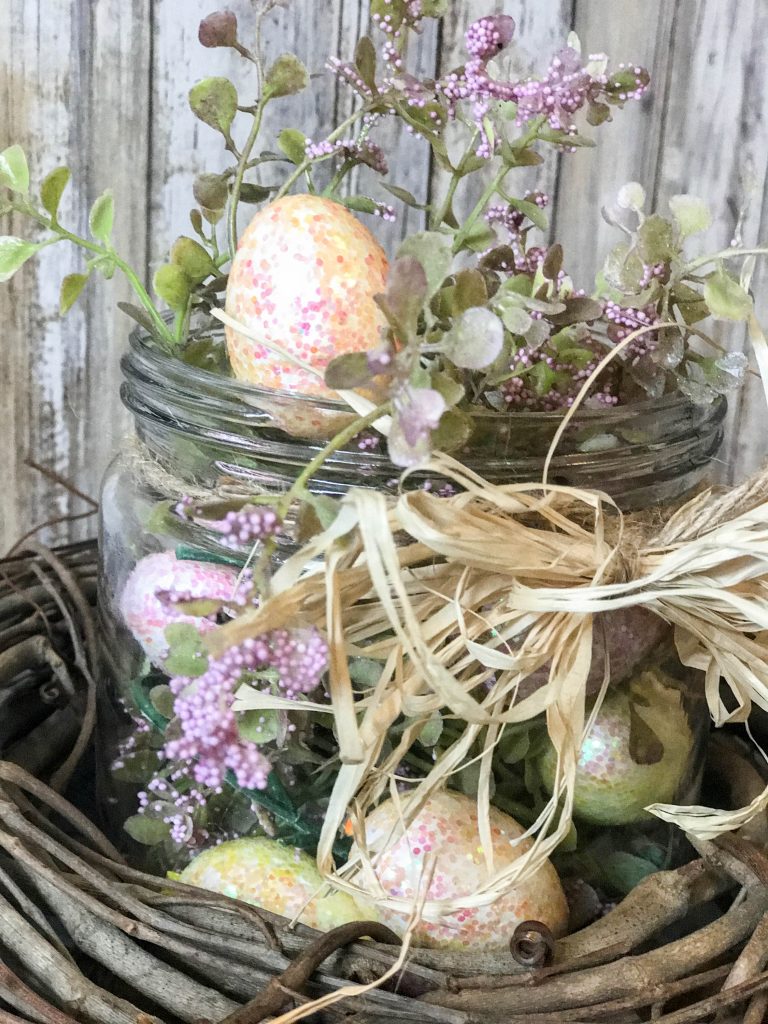 So, there ya have it! About the easiest Easter decor you can come up with! Also, a mason jar is perfect for this too!
If you like it this super EASY Easter table decor, then put a PIN ON IT!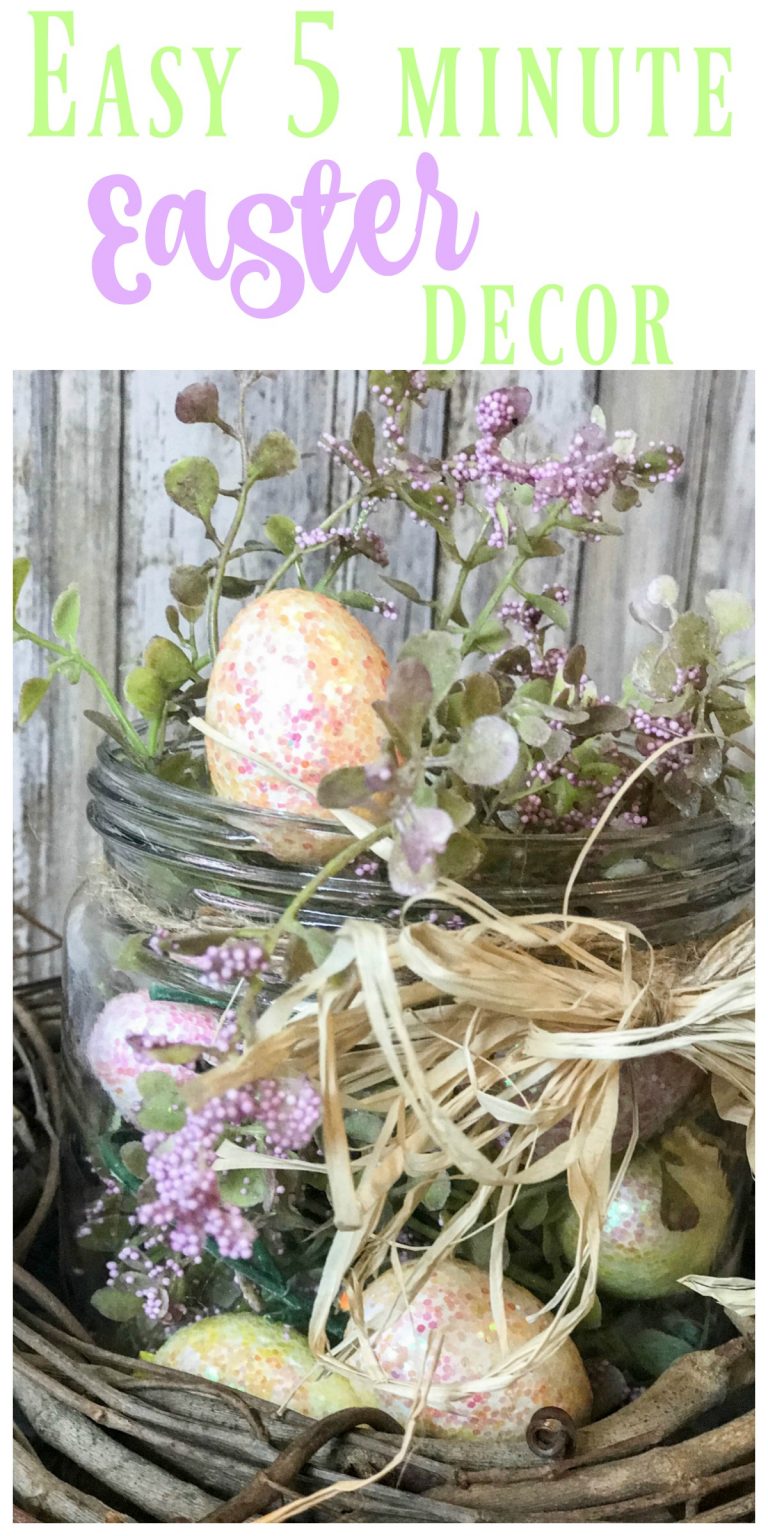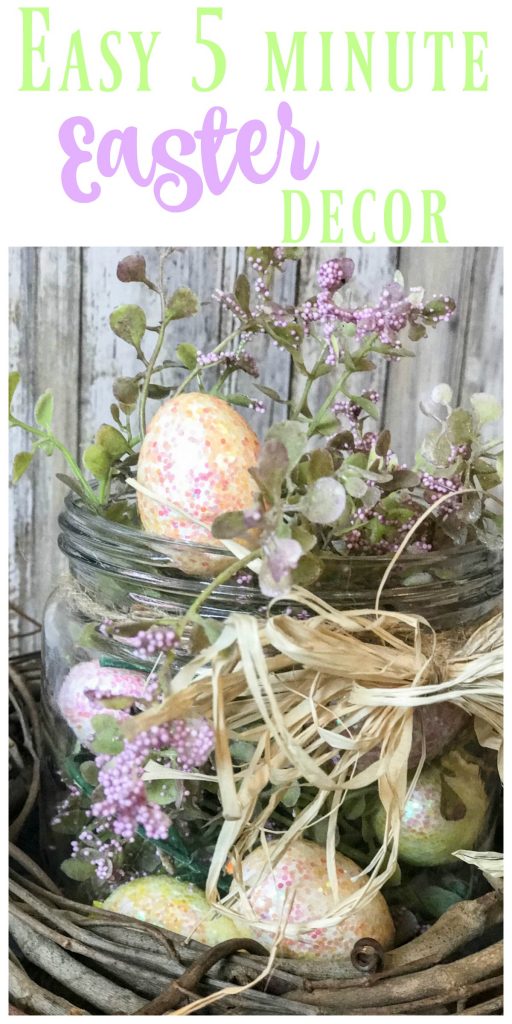 Be sure to follow along on Social Media!