Have ya' heard the news?!?!? WE BOUGHT A HOUSE!!!
Now, don't worry… we aren't moving!!! This house was bought strictly for design/content purposes!
Here's the deal… with my job, it is important for me to be up to date on all the latest home decorating trends, and I must ALWAYS be changing things up in my home to keep generating new content for you. Well, it has gotten soooo hard to CONSTANTLY be changing up my own home for all these things- and I can barely enjoy the way something looks because I know I'll have to be changing it soon!
And that's where this house comes into play! This allows me to COMPLETELY renovate, get creative, and update something that I KNOW will be beneficial for y'all- and help me out as well!
Now, I can try out lots of different ways to fix up this house ON A BUDGET- as well as have a space to constantly change up that isn't my own home. Overall, this is a HUGE blessing, and I can't wait to dive deep into fixing it up!
Kitchen area
As soon as you walk in, this is what you see! This little nook would be considered the "dining room," or a little breakfast area!
Wondering whats behind those little doors? Just a little room that can be turned into ANYTHING! For now, it may act as an office… but could potentially turn into a super spacious pantry!
When you turn to the left, you have the actual kitchen area! This has a lot of work to be done to it… but I'm up for the challenge!
I'm thinking about tearing down this half wall to open this space up a bit.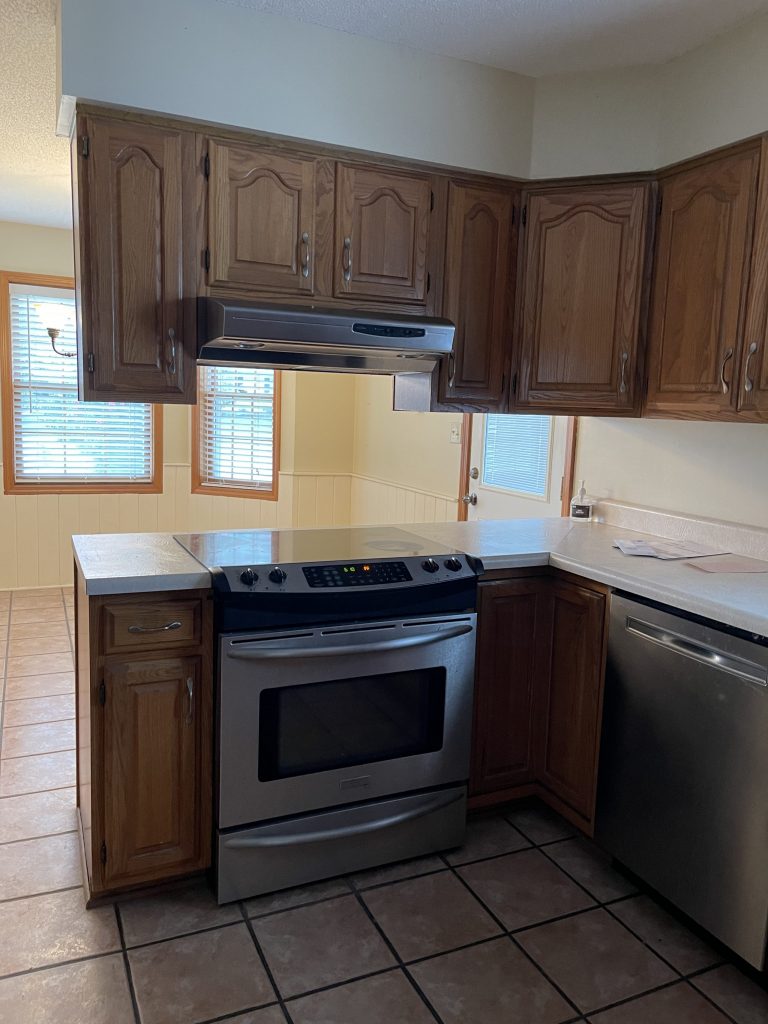 Here's what the opposite side of the wall looks like! All the appliances are in great condition- which is amazing!
As you can see, there is lots of cabinet space! I have so many ideas to re-paint these cabinets and get new hardware.
If you turn to the right, here is the rest of the kitchen! Again, lots of cabinet space which is amazingggg.
Den/Living Area
If you walk through the doorway beside the fridge, you come to this room- which could also be considered a dining room or a den!
Beside the "den" area, you have the living room! I was THRILLED to see that it has a fireplace, of course!
It's actually a very spacious room- and I can see just picture so much happening in here!
The opposite end of the room leads to the back door- which has a GORGEOUS view of the garden area. I didn't get a picture of this… but trust me, it is so pretty out there!
Hallway/Guest Bath
Around the living room is back to the hallway, which leads to the staircase, and a small half bath!
This bathroom was interesting to say the least… the walls had some kind of textured design on them… which will definitely be going!
Now moving upstairs!
Upstairs is where all the bedrooms are! There are two guest bedrooms, and the master bedroom!
The bedrooms are very simple- and pretty much all look like this!
Here's the guest bathroom upstairs- it's also pretty simple!
And here's the master bathroom! It's a very good size and has lots of room for potential!
It's also equipped with a huge tub!
And a nice little shower!
That's pretty much the gist of the house! But I did want to show you one of my favorite parts… which is this adorable little shed! HOW CUTE!!!
As you can see, this house is in VERY good shape, but there's LOTS of room to grow with it. I absolutely CANNOT WAIT to see how this house transforms… and YOU will be here for it every step of the way!
Make sure you stick around to keep up with all that's happening with the Re-Fabbed house!!!
If you love looking at house remodels, come check out some others that are featured on the blog down below!
PIN FOR LATER!!!