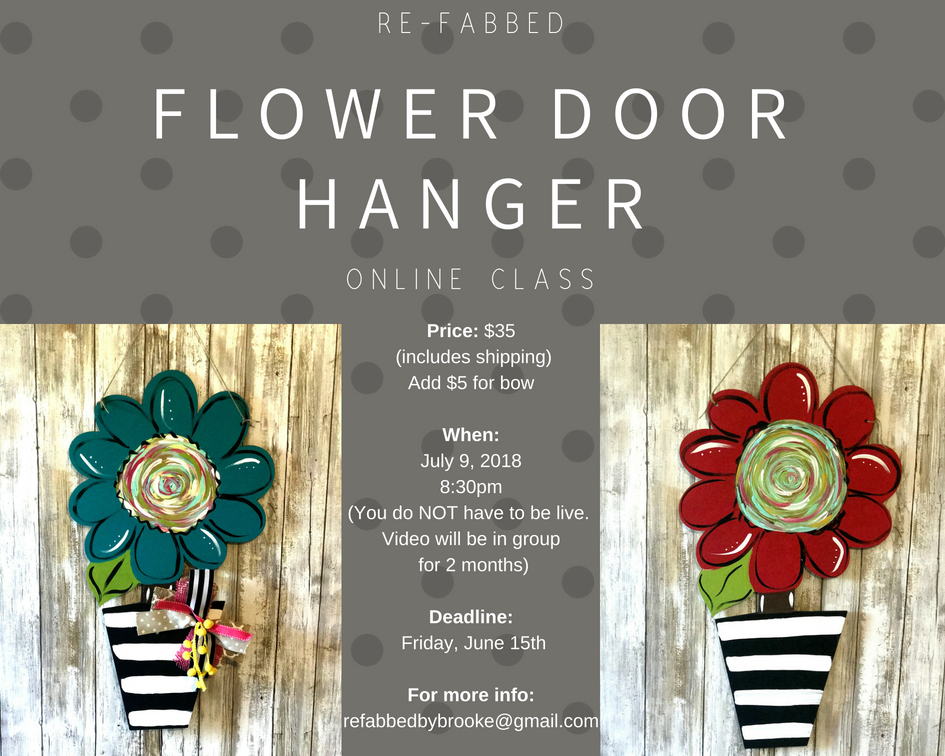 This class is SUPER CUTE and very popular! I am very excited to be offering it on Re-Fabbed!
How it works:
I have an online private Facebook group set up just for this class. I go live in this group on the night of the class. I share a 1 hour step by step tutorial for this flower. You can use ANY colors you desire. I paint this with you, every step of the way! You can ask questions at any time, even if you are not live the night of the call. I am here to help!
You do NOT have to be live the night of the event! The video will be saved in the group for you to watch at anytime for the next 2 months (or you can save the live and do it whenever!)
What you will need:
Paint colors of your choice (I use the 50 cent craft paint from Walmart!)
Brushes of your choice
You will receive:
Blank, wooden flower cutout- high quality MDF laser cut
Bow (if you choose that option)
Twine to hang
Please follow the instructions so that you are signed up successfully!
FILL OUT THE FORM FIRST! I HAVE to have this part!
Fill out the form below and hit submit so that I have your information!
THEN:
Click the Pay Now button to submit your payment.
YOU ARE NOT SIGNED UP if you fill out the form but do not pay.
AFTER PAYING, click right here so that you can join our group on Facebook for members of this class ONLY!
Easy Peasy!
Please pay $35.00 if you chose to NOT want a bow added. Please pay $40.00 if you DO want a bow!